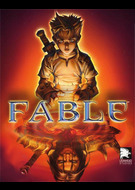 Fable: The Lost Chapters
You can buy this product on:

$9.99
Among all RPG games one of the most famous is Fable: The Lost Chapters. Although the game was released in the 2005, it still remains one of the most popular and beloved around the world, despite the constant release of the new projects. There're variety of weapons, unique locations, and also fun and exciting storyline that is wanted to go through over and over again! If your dream about traveling, fighting with the Evil and feeling combat excitement - the Fable: The Lost Chaptersgame is for you! You will be able download Fable: The Lost Chapters free during the events time in the digital stores.
Release date
The Information is specified.
Yesterday, during the press conference, the Microsoft's vice president - Phil Spencer - together with the representatives of the Lionhead Studios announced the launch of Fable Legends on PC with Windows 10 OS. Earlier, the release of this project was planned only on Xbox One.
by Olga Smiyanenko
2015-01-22
3683 views
The good news for those who eagerly anticipate Fable Legends! You have got a unique opportunity to try this game before it is released.
by Anna Stepko
2014-08-19
2973 views
The developers of the upcoming Fable Legends game don't rejoice us often with the fresh news of this project, but when they do it, we can be sure that this information is really interesting and exciting. Thus, yesterday, Lionhead Studios' employees published the new Fable Legends video, which shows us how incredibly good the game's lighting system will be.
by Anna Stepko
2014-07-10
4066 views