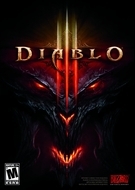 Among all RPG games one of the most famous is Diablo III. Although the game was released in the 2012, it still remains one of the most popular and beloved around the world, despite the constant release of the new projects. There're variety of weapons, unique locations, and also fun and exciting storyline that is wanted to go through over and over again! If your dream about traveling, fighting with the Evil and feeling combat excitement - the Diablo III game is for you! You will be able download Diablo III free during the events time in the digital stores.
If you're willing to participate in the closed Heroes of the Storm beta, then now you've got another opportunity to do it. Blizzard company has announced a special bundle titled Founder's Pack, by purchasing which you will receive not only guaranteed access to the testing but also some additional content in the game.
by Olga Smiyanenko
2015-01-21
3236 views
Yesterday, the first major Diablo III: Reaper of Souls update on PS4 and Xbox One was launched. Patch 2.1.0 added to the console versions of the project some new features and several additional locations and items, the detailed information about which we are going to share with you right now.
by Olga Smiyanenko
2014-10-08
3794 views
Dear gamers, if you remember, a couple of weeks ago, we told you about our new partner - G2A. com, and already today we would like to share its incredibly pleasant news for the gamers from all over the world.
by Anna Stepko
2014-05-30
4356 views