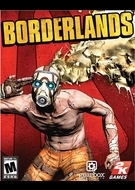 Borderlands
You can buy this product on:

$9.49

$19.99
Borderlands game is an action-RPG with a first-person view. Here you can choose one of four characters with their special skills and then go to the Pandora planet to fight against enemies there. Borderlands for PC and consoles was released in 2009 and 2010. Now you can download Borderlands for free during special offers in different shops.
Release date
The Information is specified.
For the last few days, the fans of the Borderlands franchise got the double portion of the pleasant news. Thus, earlier, the release terms of the next Tales from the Borderlands episode - Atlas Mugged - were revealed as well as its official trailer was demonstrated.
by Olga Smiyanenko
2015-03-10
2571 views
Last week, 2K Games and Gearbox Software revealed the information about the new collection and the special edition for the fans of the Borderlands universe. You can find more details about them by following this link.
by Olga Smiyanenko
2015-01-26
2477 views
Another work week is going to its end, and if you have been busy in this period and missed the most important events in the gaming industry, don't get upset. GameSpace's team writes the week's game news digest each Friday especially to fill such gaps.
by Anna Stepko
2015-01-23
6321 views