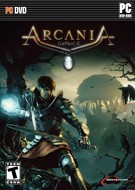 Gothic 4: ArcaniA
You can buy this product on:
$19.99

$19.99
Among all RPG games one of the most famous is Gothic 4: ArcaniA. Although the game was released in the 2010, it still remains one of the most popular and beloved around the world, despite the constant release of the new projects. There're variety of weapons, unique locations, and also fun and exciting storyline that is wanted to go through over and over again! If your dream about traveling, fighting with the Evil and feeling combat excitement - the Gothic 4: ArcaniA game is for you! You will be able download Gothic 4: ArcaniA free during the events time in the digital stores.
Release date
The Information is specified.