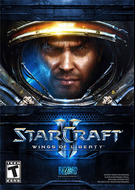 StarCraft II game is a famous science fiction real-time strategy, that was released in 2010. It is a sequel to StarCraft and in comparison with the first game, here we got 3D-graphics. The plot of StarCraft game tells us about the three races, that are situated far from the Earth. The main task is to find the resources and win a lot of battles.
Release date
The Information is specified.
In the Blizzard's official online store - battle. net, - the StarCraft II: Legacy of the Void pre-orders have been opened recently.
by Olga Smiyanenko
2015-07-16
2202 views
Blizzard company has also rejoiced its fans with some fresh news at E3. Thus, the studio's representatives have announced the StarСraft II: Legacy of the Void DLC titled Whispers of Oblivion as well as have demonstrated its first trailer.
by Olga Smiyanenko
2015-06-17
2582 views
The final chapter of the StarCraft II - Legacy of the Void - was announced at BlizzCon last August. Then, the developers presented the project's debut trailer.
by Olga Smiyanenko
2015-03-19
2503 views