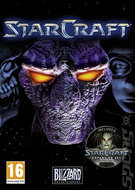 StarCraft game is a military science fiction real-time strategy, that was released in 1998. It is the first game in the series and it became amazingly popular all over the world. In Korea there are a lot of StarCraft competitions, so you can download StarCraft not only to play, but also to win the championship and became famous!
Release date
The Information is specified.
In the Blizzard's official online store - battle. net, - the StarCraft II: Legacy of the Void pre-orders have been opened recently.
by Olga Smiyanenko
2015-07-16
1957 views
Blizzard company has also rejoiced its fans with some fresh news at E3. Thus, the studio's representatives have announced the StarСraft II: Legacy of the Void DLC titled Whispers of Oblivion as well as have demonstrated its first trailer.
by Olga Smiyanenko
2015-06-17
2344 views
The final chapter of the StarCraft II - Legacy of the Void - was announced at BlizzCon last August. Then, the developers presented the project's debut trailer.
by Olga Smiyanenko
2015-03-19
2288 views