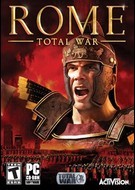 Rome: Total War game is a turn-based strategy with real-time battles. The game is set during Roman Empire, and the player leads one of the Roman families. Rome: Total War for PC is known because of amazing and immense battles with thousands of participants. If you like such games, download Rome: Total War for free or buy the game in the official store.
Release date
The Information is specified.
Another instalment in the Total War strategy series, which is being developed by Creative Assembly studios, has got lots of fresh news recently. Thus, the Total War: Attila release date, the details about both the pre-order bonus and the project's special edition have been revealed.
by Olga Smiyanenko
2014-11-25
3652 views
If you like turn-based strategies and have already played Total War: Rome game, then you will like our today's news. First of all, today is a big and important day for all fans of Total War game series because today - on September 3, 2013 - Total War: Rome 2 game comes out for PC and you will have a great opportunity to buy and try it.
by Anna Stepko
2013-09-03
4623 views
SEGA has released a new promo Total War: Rome 2 trailer, which revealed some game's plot details. Also, you can see the real historical battles, recreated according to the chronicles of that time in the video.