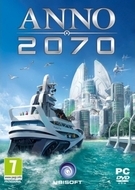 Anno 2070
You can buy this product on:

$16.99

$19.99
Anno 2070 game is an economic simulator, where you need to build new fantastic cities on the very small parts of land. Almost everything in Anno 2070 game is covered with water, but even in this severe conditions you can create the city and the society of your dreams. Also in Anno 2070 game you need to trade or fight with neighbors.
Release date
The Information is specified.
Very soon all the fans of Anno series will dive into the depths of the ocean in search of alternative energy. DLC Deep Ocean will reveal us a new faction called the Tech, which can build geothermal power plants and factories, that with the skillful management will give infinite energy.