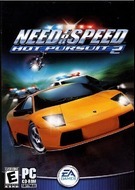 Need for Speed: Hot Pursuit 2
One of the most famous representatives of the racing genre is Need for Speed: Hot Pursuit 2. Here you will have to compete with the best sportsmans and racers on various routes in the most unpredictable conditions. The Need for Speed: Hot Pursuit 2 game has become the best in 2002 among all racing representatives. Most affordable way to buy is the electronic stores where sometimes you can download Need for Speed: Hot Pursuit 2 free.
Release date
The Information is specified.
UPD. : Electronic Arts has just reported about the postponement of Need for Speed release on PC. The developers need more time to polish this version of the future game.
by Olga Smiyanenko
2015-09-14
5681 views
Recently, in the interview to the Official Xbox Magazine, the executive producer of Ghost Games company - Marcus Nilsson - has revealed more information about the upcoming reboot of the iconic Need for Speed series. Let us remind you that at gamescom 2015 the developers also demonstrated the latest trailer of the future project.
by Olga Smiyanenko
2015-08-10
4583 views
As you remember, the new Need for Speed game was officially announced last week. According to the developers, this project is a reboot of the iconic racing simulator series.
by Olga Smiyanenko
2015-05-28
3272 views