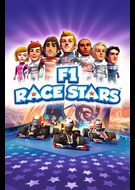 F1 Race Stars
You can buy this product on:

$17.99

$19.95
One of the most famous representatives of the racing genre is F1 Race Stars. Here you will have to compete with the best sportsmans and racers on various routes in the most unpredictable conditions. The F1 Race Stars game has become the best in 2012 among all racing representatives. Most affordable way to buy is the electronic stores where sometimes you can download F1 Race Stars free.
Release date
The Information is specified.
This year, the F1 racing simulator series from Codemasters studio will get one more instalment. Thus, yesterday, the developers of the franchise announced the new project.
by Olga Smiyanenko
2015-03-27
4398 views
A week ago, we told you about the game's system requirements and showed lots of new colorful project's pictures, and today we'd like to demonstrate you the fresh F1 2014 trailer and screenshots. Thus, yesterday, the developers of the next instalment in the racing simulator series published new F1 2014 screenshots in the official game's community in FB.
by Anna Stepko
2014-08-12
3745 views
In the official blog of Codemasters company, the new F1 2014 game has been announced. This project will become the next instalment in the studio's racing simulator series, based on the popular event - Formula 1.
by Olga Smiyanenko
2014-07-31
5409 views