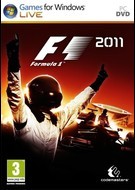 F1 2011
You can buy this product on:

$13.57

$14.99
F1 2011 game is a racing simulator, that is based on the Formula-1 2011. The most interesting feature in F1 2011 game is the career mode, that gives you an opportunity to simulate the whole driver's experience. If you like fast cars and race, then you need to download F1 2011 for free or even pay for it, because this simulator is really good.
Release date
The Information is specified.
The next part in the popular F1 racing simulator series from Codemasters will hit the European market in a few days. And it's time to get to know, which specifications your PC has to meet so that this game launches and works normally on it.
by Anna Stepko
2015-07-07
2670 views
This year, the F1 racing simulator series from Codemasters studio will get one more instalment. Thus, yesterday, the developers of the franchise announced the new project.
by Olga Smiyanenko
2015-03-27
4361 views
A week ago, we told you about the game's system requirements and showed lots of new colorful project's pictures, and today we'd like to demonstrate you the fresh F1 2014 trailer and screenshots. Thus, yesterday, the developers of the next instalment in the racing simulator series published new F1 2014 screenshots in the official game's community in FB.
by Anna Stepko
2014-08-12
3701 views