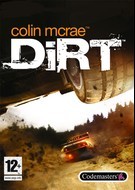 Colin McRae Rally is a series of racing games and the first series with realistic simulation of rally. Colin McRae Rally: DiRT game was released in 2007 and has new graphics and physics engine, brand-new vehicles and fantastic soundtracks. In Colin McRae Rally: DiRT new game engine from Codemasters and Sony was implemented.
Release date
The Information is specified.
DiRT Rally game in Steam Early Acces appeared in April 2015, and since that time its creators have worked hard to update, improve it and add some new content. Yesterday, they launched the new and quite big DiRT Rally update, which is titled Tarmac Terrors.
by Anna Stepko
2015-06-30
2843 views
In August 2014, the employees of Codemasters  - the developer of the popular racing simulator series titled Colin McRae Rally - published a couple of mysterious posts in the company's official Twitter account, which hinted at the creation of the new instalment in this franchise. And already today, we've got another confirmation of these suppositions.
by Anna Stepko
2015-03-19
2909 views
It seems that today is a great day full of exciting rumors and promising announcements. Previously, we reported about the possible sequel to Resident Evil: Revelations, and now are ready to please the fans of racing simulators with the news about DiRT 4 game.
by Tanya Knysh
2014-08-20
6511 views