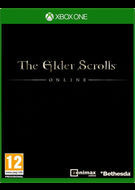 The Elder Scrolls Online game is a massive multiplayer online RPG that is going to be released in 2014. This huge project is being under development for long years, and its release date has been delayed for several times. The Elder Scrolls Online for PC is not the one version of this game, also it will be released for the next generation of consoles.
Bethesda company has reported that the first TESO: Tamriel Unlimited DLC titled Imperial City will be released on PC next month - on August 10th. As for the console versions of the project, their owners will be able to download the future add-on on Xbox One and PS4 only in the middle of September - on 15th and 16th respectively.
by Olga Smiyanenko
2015-07-16
2503 views
Bethesda Softworks company has announced the beginning of the The Elder Scrolls Online: Tamriel Unlimited closed testing on the current-gen consoles. This project must come out on June 9th, 2015.
by Olga Smiyanenko
2015-04-23
2831 views
As you remember, before the New Year's holidays, Bethesda stated that the versions of The Elder Scrolls Online on PS4 and Xbox One will be launched in 2015. And yesterday, the developers finally announced the exact release date of this project on the above mentioned platforms as well as told about the changed subscription system.
by Olga Smiyanenko
2015-01-22
3284 views