As you know, last week, the next anticipated instalment in the incredibly popular Fallout RPG series was officially announced. Then, its developers told that the forthcoming game will hit only PC and current-gen consoles, but nevertheless lots of players hoped that the versions of Fallout 4 on PS3 and Xbox 360 will also be released.
But recently, Bethesda community manager - Matt Grandstaff - has denied this information, having announced on NeoGaf site that Fallout 4 game won't be launched neither on PS3 nor on Xbox 360. He has also specified that the features, which they are developing right now, won't work there. And it's quite understandable due to the technical limitedness of the last-gen consoles.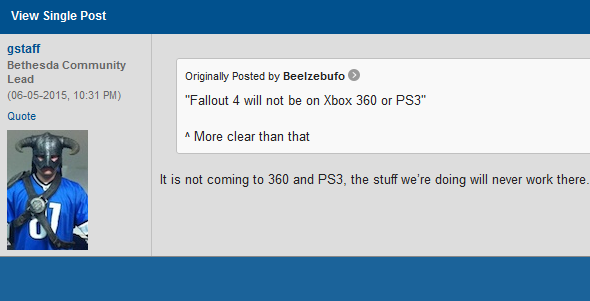 We would also like to remind you that, according to the numerous rumors, Fallout 4 game will be released sometime this autumn. The project's action will unfold in the post apocalyptic Boston.
Were you interested in the versions of Fallout 4 on PS3 and Xbox 360? Or do you anticipate this RPG's release on PC? Let us know below the news.