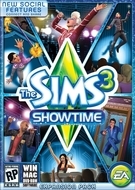 The Sims 3 Showtime
You can buy this product on:
$0.60

$7.29
The Sims 3: Showtime is a DLC for The Sims 3, where you can create a real star! If you always dreamed about stage, then you need to download The Sims 3: Showtime for free or at its original cost and create the life of your dreams for your sim. Now your character can become a real star: singer, magician, DJ or acrobat.
Release date
The Information is specified.