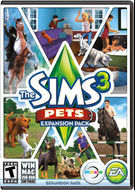 The Sims 3: Pets is a DLC for The Sims 3, where you can play not only with people, but also with adorable dogs, cats or horses. Each pet has its own character, appearance and habits, and you can manage all these features! If you like animals, then you need to download The Sims 3: Pets for free or even pay for it, because it's really interesting!
Release date
The Information is specified.
The first The Sims 4 expansion titled Get to Work will be released in April. This news was announced by Maxis and EA on the project's official site yesterday.
by Olga Smiyanenko
2015-02-05
5104 views
Yesterday, the fourth instalment in the popular life simulator series - The Sims - got the new patch. Following the ghosts and the swimming pools, some interesting jobs as well as several additional features and minor fixes have appeared in the game.
by Olga Smiyanenko
2014-12-17
4411 views
The long-awaited fourth part of the popular life simulator series was launched a month ago. During this period, it got both quite positive and negative comments.
by Olga Smiyanenko
2014-10-02
5555 views