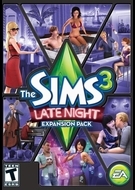 The Sims 3: Late Night is an expansion pack for The Sims 3 game. If you like night life, you need to download The Sims 3: Late Night for free or even at its original cost, because here you will be able to go out at night, visit night club or bar or even become the vampire! The Sims 3: Late Night for PC was released in 2010.
Release date
The Information is specified.
The first The Sims 4 expansion titled Get to Work will be released in April. This news was announced by Maxis and EA on the project's official site yesterday.
by Olga Smiyanenko
2015-02-05
5190 views
Yesterday, the fourth instalment in the popular life simulator series - The Sims - got the new patch. Following the ghosts and the swimming pools, some interesting jobs as well as several additional features and minor fixes have appeared in the game.
by Olga Smiyanenko
2014-12-17
4498 views
As the developers promised before, yesterday, latest The Sims 4 update came out. It brought to the game one of the most anticipated features - the swimming pools.
by Olga Smiyanenko
2014-11-05
3466 views