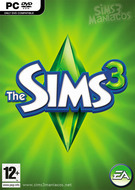 The Sims 3 game is a life simulator and one of the most popular and best-selling game in the history of video gaming. The main improvement of this version is a memory system, that allows sims remember the most important events in their life. The Sims 3 PC for released in 2009, and The Sims 3 game for consoles was available in 2010.
Release date
The Information is specified.
The first The Sims 4 expansion titled Get to Work will be released in April. This news was announced by Maxis and EA on the project's official site yesterday.
by Olga Smiyanenko
2015-02-05
5102 views
The excellent news for the fans of The Sims series and those who prefer to play the different games for free. Yesterday, the employees of EA announced the new promotion, under the terms of which all gamers who have an account in Origin store are able to play The Sims 4 for free already this weekend.
by Anna Stepko
2015-01-23
5785 views
Have you missed the fresh information about the latest released instalment in the popular The Sims game series? Then, today we will satisfy your thirst for knowledge, because we have prepared lots of interesting The Sims 4 news.
by Anna Stepko
2015-01-14
5056 views