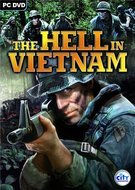 The Hell in Vietnam
You can buy this product on:
$9.99
Shooter is a game genre where we need to react fast and have not only good movements precision, but also the ability to calculate the enemy's behavior and knowledge about tactically important points and benefits of a different weapon types. The Hell in Vietnam game released in 2002 and immediately became one of the best in its genre. In addition to the single mode, where you will participate in various battles, and take part in missions, you can compete with other players via LAN or Internet. You can download The Hell in Vietnam via Steam or other store selling digital games' licenses.
Release date
The Information is specified.