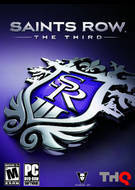 Saints Row: The Third
You can buy this product on:
$9.99

$9.99
Saints Row: The Third game is an action-adventure with open-world, where the protagonist is a leader of criminal gang. It is the third game in this series, that was released in 2011 not only for Xbox360, but also for PlayStation 3 and PC. Here your gang transformed into media corporation, that produces toys, energetic drinks and many other stuff.
Release date
The Information is specified.
Dead friends, today, we're ready to announce another sale from our partners - Green Man Gaming online store! By the end of this week, you can purchase lots of interesting new and popular projects for the pleasant prices.
by Olga Smiyanenko
2015-04-15
3988 views
At the end of August, Volition studio announced another Saint Row IV DLC. As it was revealed, this add-on will be standalone, and the players won't need the game to try it.
by Olga Smiyanenko
2014-09-08
4959 views
Deep Silver company has announced the new Saints Row IV: National Treasure Edition. According to the official information, the launch date of the collection is scheduled for July 8th, 2014, and its price will be $29.
by Olga Smiyanenko
2014-06-25
4838 views