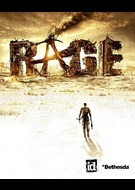 RAGE
You can buy this product on:
$9.99

$9.99
RAGE game is a first-person shooter with racing and RPG elements. The story starts in the near post-apocalyptic future after collision with the asteroid. The old world in RAGE game was completely destroyed, and now new habitants are trying to build their new cities. Also there are many races in RAGE game, during which you can earn gaming money.
Release date
The Information is specified.