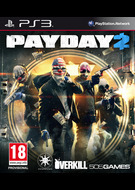 Payday 2 game is a first-person shooter, in which you will rob different shops and banks. Here the developers have implemented the random scenarios of missions and created lots of different heists and kidnappings. If you have already pre-ordered Payday 2 for PC or consoles, you can download free Payday 2 demo.
Get ready to play Titanfall 2 beta! According to Vince Zampella's twitter (Respawn co-founder), the beta will happen to the end of summer.
by Anna Stepko
2016-08-16
2982 views
Another working week as well as the first spring month come to its end. The last five days were quite exciting and filled with not only lots of thrilling information about the different projects but also many interesting announcements in the gaming industry.
by Olga Smiyanenko
2015-03-27
4324 views
The last month of winter is coming to its end finally. And already now, we can say that the upcoming warm spring days will be rich in thrilling events in the gaming and movie industries and filled with lots of highly-anticipated releases and premieres as well as fresh news and rumors about the future and popular projects.
by Olga Smiyanenko
2015-02-27
5549 views