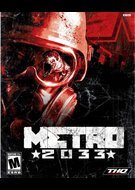 Metro 2033 game is based on post-apocalyptic science fiction novel of Russian writer Dmitry Glukhovsky. In this first-person shooter, which takes place in Moscow Metro after global nuclear war, the protagonist - Artyom needs to fight different mutate entities, carring out various missions. You can download Metro 2033 for free on Steam when there are different specials.
Release date
The Information is specified.
Dead friends, today, we're ready to announce another sale from our partners - Green Man Gaming online store! By the end of this week, you can purchase lots of interesting new and popular projects for the pleasant prices.
by Olga Smiyanenko
2015-04-15
3898 views
The new weekend - the next sale from G2A. com. This time our partner has decided to please, first of all, the fans of Metro and Risen game series, who, during the next 3 days, will be able to pre-order Metro Redux and Risen 3: Titan Lords only for €25,99 each.
by Anna Stepko
2014-08-01
4011 views
Have you finished all your games? It's not a problem anymore, because we, as always on Friday, are ready to present you the new list of games with nice reductions, which you can buy already today on the marketplace of our partner - G2A.
by Anna Stepko
2014-07-18
3249 views