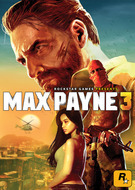 Max Payne 3
You can buy this product on:

$16.99

$19.99
Max Payne 3 game is a third-person shooter and the last instalment in the popular series by Rockstar Games. Here the protagonist that has alcohol addition will go to South America as a private security. Max Payne 3 for PC was released in 2012. Now you can try to download Max Payne 3 game for free during the special offers in digital shops.
Release date
The Information is specified.
Today Rockstar Games announced new Max Payne 3 DLC, that is going to be released very soon. This addition got the bombastic name "Deathmatch Made in Heaven", but the developers forgot to reveal details of their new project.
by Tanya Knysh
2013-01-17
7427 views
Only a week left before the RockStar's official new Max Payne 3 content DLC release. Addon "Painful Memories" contains 4 new maps: Roscoe Street Subway, Marty's Bar, Shoot First and Canal De Panamá and two new rifles.
In the recent time has increased complaints about players,using various means to obtain added value in the multiplayer. In response, thecompany Rockstar declared the action against dishonest players in multiplayerusing any means of deception.