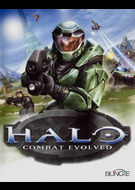 Shooter is a game genre where we need to react fast and have not only good movements precision, but also the ability to calculate the enemy's behavior and knowledge about tactically important points and benefits of a different weapon types. Halo: Combat Evolved game released in 2003 and immediately became one of the best in its genre. In addition to the single mode, where you will participate in various battles, and take part in missions, you can compete with other players via LAN or Internet. You can download Halo: Combat Evolved via Steam or other store selling digital games' licenses.
Release date
The Information is specified.
Recently, the upcoming Halo: The Fall of Reach animated series from the developers of the popular shooter franchise has got the latest details and the debut trailer. According to the information from the Microsoft's representatives, the future project will tell more about the Master Chief's origin and the Blue Team.
by Olga Smiyanenko
2015-07-14
2969 views
The new Halo: Spartan Strike game, which was announced last October, has finally arrived to such platforms as Windows 8, Windows Phone and iOS. The released project is priced at $5.
by Olga Smiyanenko
2015-04-17
4590 views
Today, there are several news for those who anticipate the upcoming release of the new part in the iconic Halo shooter series. As the developers promised last week, two story trailers of the future project have been shown recently.
by Olga Smiyanenko
2015-03-30
2677 views