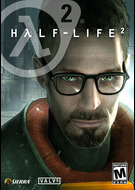 Half-Life 2
You can buy this product on:

$9.19
Half-Life 2 is one of the most significant games in the history of video gaming. It was released in 2004 and is a sequel to Half-Life. The protagonist of Half-Life 2 is again Gordon Freeman, but now the game is bigger and more qualitative. If you want to play the best shooter of all times, download Half-Life 2 for free or at its original cost - $6.
Release date
The Information is specified.
The penultimate week of August has been quite lively and rich in various interesting events in the world of video games and movie industry. If you didn't managed to follow all the latest news, our traditional digest includes a list of the most important ones.
by Olga Smiyanenko
2015-08-21
6606 views
Recently, one of the reddit users, having introduced himself as a former Valve employee, revealed the new Left 4 Dead 3 details. Well, of course, this information can be just a usual rumor, however, some of the presented facts seem quite trustworthy anyway.
by Olga Smiyanenko
2015-08-19
6633 views
On the 19th of November 15 years ago the gaming world was changed by the project that remains iconic for developers and players even in the new millennium. We are sure you have guessed that we are talking about Half-Life.
by Tanya Knysh
2013-11-20
2600 views