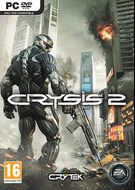 Crysis 2, a first-person shooter video game, is the sequel to Crysis which take place 3 years after the events of the first game (2023) and where the protagonist, Force Recon Marine "Alcatraz" should rescue humanity from the alien invasion. Crysis 2 game is available for PC, PlayStation 3, Xbox 360.
Release date
The Information is specified.
Crytek has prepared something special for all Crysis series fans. Gameplay trailer shows some interesting details about the domes, artillery and hidden missions.
Crysis 3 revealed in a very different guise in the new multiplayer mode trailer Hunter Mode. Customers who pre-order the game will receive a Hunter Edition, which includes a unique set of clothes for hunters and EMP grenades for infantry, and other ammunition items .
The Prophet and his fabulous costume developers don't stop to please the fans with good news and announcements. Game's producer Mike Reed summarized all Crysis' 3 multiplayer facts that were announced at the moment .