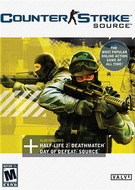 Counter Strike: Source
You can buy this product on:

$9.99
Counter-Strike: Source game is a famous multiplayer shooter, that is developed on Source gaming engine. In Counter-Strike: Source game you can play as a member of Terrorists team or Counter-Terrorists team and you need to destroy all rival team or to get the control point of the map. This version was released in 2004 and has impressive graphics.
Release date
The Information is specified.
Valve company - the developer of the legendary shooter series - has launched the latest Counter-Strike: Global Offensive update, titled Operation Breakout, on PC and Mac. The DLC is totally free, but if the players are willing to get more fresh content - the new missions and the design of weapon, - then they are able to purchase the special Operation Breakout All-Access Pass for $5.
by Olga Smiyanenko
2014-07-03
5244 views
The October is coming to its end, and the temperature in the gaming world is increasing. This week there were a lot of interesting game news, and we've tried to choose the most exciting ones to present you on Friday night.
by Tanya Knysh
2013-10-25
6365 views
Counter-Strike Online 2 - the version of the famous first-person shooter developed especially for Asia - has recently got the new mode, which is called Pig Mode. And to promote this event, the developers have decided to announce a little bit strange (actually, not a little) offer.
by Tanya Knysh
2013-10-21
5171 views