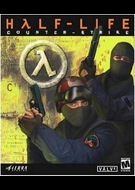 Counter-Strike game is a famous multiplayer shooter, that was originally developed from Half-Life map. In Counter-Strike game you can play as a member of Terrorists team or Counter-Terrorists team and you need to destroy all your enemies or to get the control point of the map. The latest version of Counter-Strike game was released in 2003.
Release date
The Information is specified.
Valve has presented the new Operation Vanguard in Counter-Strike: Global Offensive as well as a special Access Pass, which allows the players to get some new interesting content. It includes the additional mission series and locations.
by Olga Smiyanenko
2014-11-13
5065 views
Autumn is setting in, and each day becomes colder, but it's not the reason to get upset, because you have a good chance to spend a bit more time in front of your PC, reading only the hottest movie and game news. And as always, GameSpace team is here to rejoice you with the selection of the most interesting ones between them.
by Anna Stepko
2014-09-19
4255 views
As you remember, at the beginning of August, Nexon and Valve studios announced the new project in the legendary shooter series. Recently, some fresh Counter-Strike Nexon: Zombies news, including the latest screenshots and the information about the upcoming game's beta, have appeared.
by Olga Smiyanenko
2014-09-15
3987 views