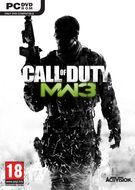 Call of Duty: Modern Warfare 3
Call of Duty: Modern Warfare 3 game is an exciting first-person shooter about war between America and Russia. If you are fond of Call of Duty series, you obviously need to download Call of Duty: Modern Warfare 3 for free or even pay for it. The game was released in 2011 and the story in it starts just after the events of the previous part.
Release date
The Information is specified.
The first CoD: Advanced Warfare DLC titled Havoc will hit Xbox One and Xbox 360 on January 27th. Due to this event, Sledgehammer Games and Activision studios have shared the details of the future add-on as well as have shown its preview.
by Olga Smiyanenko
2015-01-14
5481 views
Today, we'd like to share two news about the last released instalment in the Call of Duty shooter series. Thus, the other days, the project's developer - Sledgehammer Games - published the new CoD: Advanced Warfare trailer dedicated to the anticipated Zombie mode, which will come out by parts.
by Olga Smiyanenko
2014-12-22
6194 views
CoD: Advanced Warfare game was released a month ago, and it seems that the creator of many shooters in this series - Treyarch company - teases the next project in the franchise. Such a supposition has appeared after the mysterious company's post, which its employees published on the Treyarch's official page in Facebook yesterday.
by Anna Stepko
2014-12-08
9258 views