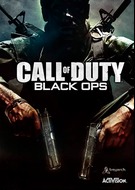 Call of Duty: Black Ops
You can buy this product on:
$39.99
Shooter is a game genre where we need to react fast and have not only good movements precision, but also the ability to calculate the enemy's behavior and knowledge about tactically important points and benefits of a different weapon types. Call of Duty: Black Ops game released in 2010 and immediately became one of the best in its genre. In addition to the single mode, where you will participate in various battles, and take part in missions, you can compete with other players via LAN or Internet. You can download Call of Duty: Black Ops via Steam or other store selling digital games' licenses.
Release date
The Information is specified.
Activision company has told which bonus the players can get if they make the CoD: Black Ops 3 pre-order. Let us remind you that the shooter's release is just a couple of months away.
by Olga Smiyanenko
2015-09-01
3905 views
As you remember, CoD: Black Ops 3 beta on PS4 will start in a week - on August 19th. It will last five days - till August 23rd.
by Olga Smiyanenko
2015-08-12
3925 views
Last week, Treyarch Studios - the developer of the next part in the CoD: Black Ops series - revealed the start date of the upcoming project's beta. Several days ago, the company told more details about the testing as well as shared some information concerning the future game's new Zombies mode.
by Olga Smiyanenko
2015-07-13
2855 views