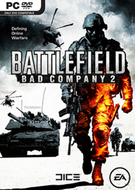 Battlefield: Bad Company 2
Battlefield: Bad Company 2 game is a first-person shooter about the fictional war between Russia and USA. Russia is inventing highly dangerous weapon, and four American soldiers need to find and capture it. If you fond of wars and plots, you obviously should download Battlefield: Bad Company 2 for free or at its original cost.
Release date
The Information is specified.
Yesterday, EA and Visceral Games studios announced the exclusive Battlefield Hardline Premium program and told which content will be available for its members in details. The subscription will cost $50 for a year.
by Olga Smiyanenko
2015-03-03
3866 views
The highly-anticipated open beta of the next instalment in the Battlefield shooter series starts today. The testing will be available for all gamers regardless the platform - PC, current or last-gen consoles.
by Olga Smiyanenko
2015-02-03
4309 views
The new shooter in the Battlefield series is supposed to come out on PC, current and last-gen consoles on March 17th and on March 19th, depending on a region. However, the developers don't hurry to announce the date of the project's open testing.
by Olga Smiyanenko
2015-01-28
2553 views