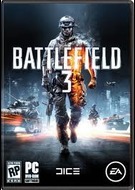 Battlefield 3 game is a famous first-person shooter with full-fledged campaign for one gamer and modern immense multiplayer mode. If you want to take part in American war and try to avert great plot, you obviously need to download Battlefield 3 for free or at its cost and play! Battfield 3 game was released in the 2011.
Release date
The Information is specified.
Yesterday, EA and Visceral Games studios announced the exclusive Battlefield Hardline Premium program and told which content will be available for its members in details. The subscription will cost $50 for a year.
by Olga Smiyanenko
2015-03-03
3805 views
The release of the anticipated shooter from EA and Visceral Game is just around the corner, so the various latest Battlefield Hardline news have been spreading online with a top speed. As you already know, the upcoming project will include both multiplayer and single-player campaigns.
by Olga Smiyanenko
2015-02-26
3494 views
The highly-anticipated open beta of the next instalment in the Battlefield shooter series starts today. The testing will be available for all gamers regardless the platform - PC, current or last-gen consoles.
by Olga Smiyanenko
2015-02-03
4201 views