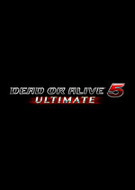 Dead or Alive 5 Ultimate game is a fighting and a part of the very popular series. This project is being developed for PS3 and Xbox 360 only and will be released on the 3rd of September, 2013. To download Dead or Alive 5 Ultimate, wait for its release date and for the special offer in the shops. Already now you can pre-order DOA 5 Ultimate.
At the past Tokyo Game Show 2015 event, Team Ninja studio revealed some new Dead or Alive Xtreme 3 details. Let us remind you that this game was announced in August for PS4 and PS Vita.
by Olga Smiyanenko
2015-09-21
10126 views
The rumors about the next instalment in Dead or Alive Xtreme series were spreading online a while ago. At the beginning of August, the developer of the franchise - Team Ninja studio - confirmed the work on the new part.
by Olga Smiyanenko
2015-08-18
4934 views
The launch of Dead or Alive 5 Last Round on PC took place at the end of this March, and then this version of the game didn't have a very important part of functionnality. If you do remember, then the developers promised that by the end of June 2015 they would add an online multiplayer by means of an update.
by Anna Stepko
2015-07-01
2489 views