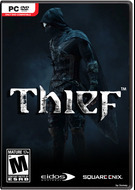 Thief
You can buy this product on:

$29.19
Thief game is the next installment in the very popular series of action-stealth projects with amazing atmosphere. Thief for PC, current and next generations of consoles will be the rebirth of the series with a unique plot and fantastic graphics. Thief release date is not exact yet, but the game is scheduled for the next year - 2014.
Although Thief game will be released only next week, the developers can't wait to show you its fantastic and action-packed launch video. About an hour ago, rather long and interesting Thief trailer was published on the project's official YouTube channel.
by Tanya Knysh
2014-02-20
4199 views
Thief game is coming already this month, and so the developers shower us with new media and promo materials. Today they have presented thrilling and interesting Thief trailer, which reveals the next one (third) story of the City.
by Tanya Knysh
2014-02-11
2521 views
Today is Friday, and it means that we are ready to sum up the first week of February and tell you not only the most interesting game news, but also a lot of exciting information from the motion picture industry. So sit back and start reading our week's game news digest.
by Anna Stepko
2014-02-07
8029 views