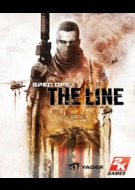 Spec Ops: The Line
You can buy this product on:

$25.57

$29.99
Shooter is a game genre where we need react fast and have not only good movements precision, but also the ability to calculate the enemy's behavior and knowledge about tactically important points and benefits of a different weapon types. Spec Ops: The Line game released in 2012 and immediately became one of the best in its genre. In addition to the single mode, where you will participate in various battles, and take part in missions, you can compete with other players via LAN or Internet. You can download Spec Ops: The Line via Steam or other store selling digital games' licenses.
Release date
The Information is specified.
In honor of the upcoming Batman: Arkham Knight release, our partner - Green Man Gaming online store - offers you purchasing several instalments of the series with a huge discount! So, starting from today - Friday 19th - and for the whole week - till Friday 26th, - you have an excellent chance to get Batman: Arkham Asylum Game of the Year Edition and Batman: Arkham City GOTY for only $5 each.
by Olga Smiyanenko
2015-06-19
2222 views
Another working week has just started, and we're ready to announce an exciting deal from our partner - Green Man Gaming online store! Starting from today - April 28th - and till April 30th, you can choose and purchase several popular projects with a pleasant discount.
by Olga Smiyanenko
2015-04-28
3270 views