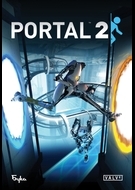 Portal 2
You can buy this product on:

$18.31
Portal 2 game is a puzzle-platformer with interesting gameplay and story. Your main task here is to solve lot of puzzles, using special portal gun device, that creates portals for immediate travelling. Portal 2 game for PC and consoles was released in 2011, but also there is another Portal game, that was developed in 2007.
Release date
The Information is specified.
So many people are sure that games are harmful for us, but we - real gamers - always knew that gaming is useful. For example, it can help you to find good job in young fast-growing company.
by Tanya Knysh
2013-01-29
4608 views