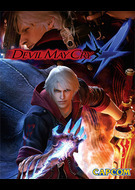 Devil May Cry 4
You can buy this product on:
$19.99

$19.99
Among all RPG games one of the most famous is Devil May Cry 4. Although the game was released in the 2008, it still remains one of the most popular and beloved around the world, despite the constant release of the new projects. There're variety of weapons, unique locations, and also fun and exciting storyline that is wanted to go through over and over again! If your dream about traveling, fighting with the Evil and feeling combat excitement - the Devil May Cry 4 game is for you! You will be able download Devil May Cry 4 free during the events time in the digital stores.
Release date
The Information is specified.
Another working week as well as the first spring month come to its end. The last five days were quite exciting and filled with not only lots of thrilling information about the different projects but also many interesting announcements in the gaming industry.
by Olga Smiyanenko
2015-03-27
4365 views
Devil May Cry 4: Special Edition was announced at the end of last year. Its launch on PC and current-gen consoles is planned to take place in summer 2015, so Capcom studio has finally decided to share the details of the future bundle's content.
by Olga Smiyanenko
2015-03-24
3447 views
Almost a month ago, Ninja Theory studio announced the creation of DmC: Definitive Edition - a bundle, which will be launched on the current-gen consoles and will include the original game, all released DLCs, the new skins for the protagonist and a range of cool modes. Then, it was reported that this edition, the price of which is $39.
by Anna Stepko
2015-01-14
2685 views