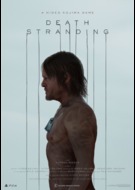 Death Stranding
You can buy this product on:
$4.99

$7.99
Release date
The Information is specified.
You won't believe what can one person do to keep a secret. An innovation.
by Anna Stepko
2016-07-14
1642 views
PlayStation Youtube channel published a bunch of videos that are sort of a sum-up over a huge E3 2016 event. The craziness caused by the number of presented video games led to the state where you can't remember exactly what games were on the presentation.
by Anna Stepko
2016-07-07
3921 views
Basically, there's not much material about Death Stranding yet to build an impression on. There were a presentation, a trailer and an interview.
by Anna Stepko
2016-06-16
6252 views