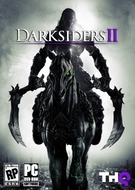 Darksiders II game is a very special action-adventure RPG, where you can play a role of Death. In Darksiders II game Death - a horseman of Apocalypse - is trying to save his brother. There are several puzzles in the game, but mostly you will be killing lot of different opponents. The graphics in Darksiders II game is better, than in previous one.
Several days ago, the very attentive gamers noticed the Darksiders II: Definitive Edition for PS4 on Amazon. Besides it, a list of other projects from Nordic Games company, which will probably get the remastered versions on the current-gen consoles, appeared on this service.
by Olga Smiyanenko
2015-02-17
2021 views
Recently the information concerning the Darksiders series sequel, which is being prepared by Nordic Games, has appeared. This news has been told by the former creative director of Vigil Games - Joe Madureira - in his Facebook.
by Olga Smiyanenko
2014-05-12
2693 views
The Darksiders II protagonist will have to face a lot of terrible creatures from the Hell and their leader Belial. Is it possible to save the remnants of the survivors or humanity is doomed to failure depends on you!