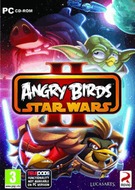 Angry Birds Star Wars 2 game is the second instalment in the popular series, inspired by the Star Wars universe. This game will be released for mobile platforms, but whether there will be Angry Birds Star Wars 2 for PC, is unknown now. As always, you will be able to download Angry Birds Star Wars 2 for free and buy the additional levels.
Rovio company has officially announced the sequel of the original Angry Birds project, which was launched in 2009. From that year, this puzzle game series got lots of various themed instalments based on such popular franchises as Star Wars, Transformers, etc.
by Olga Smiyanenko
2015-07-17
4748 views
The Angry Birds movie, which is being directed by Clay Kaytis and Fergal Reilly, is going to hit the cinemas around the world in summer 2016. For a long time, lots of people were wondering whose voices the cartoon's characters will get.
by Olga Smiyanenko
2014-10-02
4651 views
Feeling inspired by the success of Angry Birds Star Wars and also the upcoming premier of the fourth movie about the conflict between Autobots and Decepticons, Rovio and Hasbro companies have decided to team up again and transform the popular feathered tribe into powerful robots. Thus, just a few hours ago the new Angry Birds Transformers was officially announced.
by Olga Smiyanenko
2014-06-16
4971 views