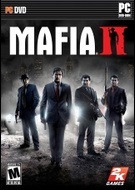 Mafia II
You can buy this product on:

$25.57

$29.99
Mafia II game is an action-adventure with open-world, that is set is fictional American city. There are a lot of vehicles here, and you can not only drive them, but also steal. Mafia II game has a very special atmosphere with music from the 1940s-1950s. If you like criminal adventures, then you should download Mafia II for free or pay for it.
Release date
The Information is specified.
Yesterday, at gamescom 2015 in Cologne, the next instalment in the popular Mafia action-adventure series got the debut trailer and screenshots. Also, 2K Games company revealed what the future Mafia III game will tell about and who will be its main character.
by Olga Smiyanenko
2015-08-06
4272 views
Interesting news for the fans of the popular Mafia action-adventure series appeared online yesterday. The fresh details hint at the soon official announcement of the unbelievably anticipated Mafia III game.
by Anna Stepko
2015-06-30
3448 views
Another working week has just started, and we're ready to announce an exciting deal from our partner - Green Man Gaming online store! Starting from today - April 28th - and till April 30th, you can choose and purchase several popular projects with a pleasant discount.
by Olga Smiyanenko
2015-04-28
3348 views