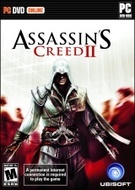 Assassin's Creed II game is a story about Desmond - the modern man, whose ancestors were assassins. In this game he turns into Ezio from Medieval Italy and hunts the Pope. Assassin's Creed II game is an open-world action-adventure, where the historical events are fantastically realistic and the graphics earns the highest praise.
Release date
The Information is specified.
In the middle of last December, Ubisoft released the forth AC Unity update, and in two monts its employees presented the game's next patch, about which we are going to tell you in details right now. Thus, yesterday, the developers of this action-adventure launched the new AC Unity patch, which is already available on PS4 and Xbox One, and in a few days it will appear on PC.
by Anna Stepko
2015-02-19
3419 views
At the meeting with the investors, which took place the other day, Ubisoft told about its future plans, revealed the latest Assassin's Creed news as well as presented quite interesting sales statistics of the company. Thus, the Ubisoft's CEO - Yves Guillemot - has stated that the Assassin's Creed Victory game - the next instalment in the highly-popular franchise - will be based on the technologies and the engine, which were used during the creation of the previous part in the series - AC Unity.
by Olga Smiyanenko
2015-02-13
6014 views
Yesterday, Ubisoft pleased the fans of both Far Cry and Assassin's Creed series. Thus, the studio launched the new Far Cry 4 patch, which brought to the game an ability to complete the missions in the locations, which were created in the Map Editor, in the cooperative mode.
by Olga Smiyanenko
2015-02-06
5882 views