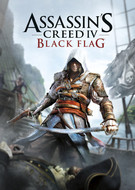 Assassin's Creed IV: Black Flag
Assassin's Creed IV: Black Flag game is the newest instalment in famous series of action-adventures with open world. This time our main character will be a pirate, but also an assassin in the same time. Assassin's Creed IV: Black Flag release date is on the 29th of October, 2013. The game will be released for PC and consoles.
In the middle of last December, Ubisoft released the forth AC Unity update, and in two monts its employees presented the game's next patch, about which we are going to tell you in details right now. Thus, yesterday, the developers of this action-adventure launched the new AC Unity patch, which is already available on PS4 and Xbox One, and in a few days it will appear on PC.
by Anna Stepko
2015-02-19
3489 views
At the meeting with the investors, which took place the other day, Ubisoft told about its future plans, revealed the latest Assassin's Creed news as well as presented quite interesting sales statistics of the company. Thus, the Ubisoft's CEO - Yves Guillemot - has stated that the Assassin's Creed Victory game - the next instalment in the highly-popular franchise - will be based on the technologies and the engine, which were used during the creation of the previous part in the series - AC Unity.
by Olga Smiyanenko
2015-02-13
6071 views
Yesterday, Ubisoft pleased the fans of both Far Cry and Assassin's Creed series. Thus, the studio launched the new Far Cry 4 patch, which brought to the game an ability to complete the missions in the locations, which were created in the Map Editor, in the cooperative mode.
by Olga Smiyanenko
2015-02-06
5938 views