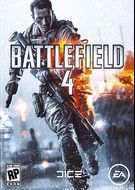 Battlefield 4
You can buy this product on:

$8.99
Battlefield 4 game is an upcoming first-person shooter and the 13th installment in the popular game series. As always, the project will consist of the single-player campaign and comprehensive multiplayer. Battlefield 4 game will be released on the 29th of October, 2013. There will be Battlefield 4 for PC, next and current generations of consoles.
Free DLC for everybody! Battlefield 4 and Battlefield Hardline DLCs are free for Xbox, PC and PlayStation users.
by Anna Stepko
2016-05-04
1973 views
Each day in the video game and movie industries is filled with lots of interesting events. So, this week isn't an exception.
by Olga Smiyanenko
2015-05-22
3606 views
Despite the fact that Battlefield 4 game was released more than a year ago, the project's developers still work actively on the shooter's improvement. A few days ago, they announced the new Battlefield 4 patch - the Spring one, - which has to be launched till the end of this month.
by Anna Stepko
2015-05-18
1762 views