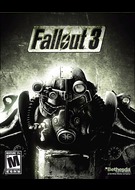 Fallout 3
You can buy this product on:

$9.99

$14.99
Fallout 3 game is a very successful third part in the Fallout series. Fallout 3 game is a typical RPG taking place in the world after the nuclear apocalypse that devastated the game's world where a protagonist, searching for his father, needs to go outside and battle a myriad of enemies. You can download for free Fallout 3 or buy it. It is available for PC, PS3 and Xbox 360.
Release date
The Information is specified.
The end of autumn 2013 is the crucial time for the gaming industry, because during the second part of November two consoles of the next generation arrived to players. How did this event influence gaming?
by Tanya Knysh
2013-11-22
5347 views
The long-awaited next instalment in Fallout series seems to be teased again. A few days ago the site that hints at Fallout 4 appeared in the network, and today Bethesda has registered "Fallout 4" trademark.
by Tanya Knysh
2013-11-18
4340 views