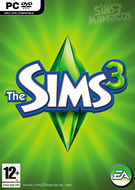 The Sims 3
Release date
The Information is specified.
The Sims 3 game is a life simulator and one of the most popular and best-selling game in the history of video gaming. The main improvement of this version is a memory system, that allows sims remember the most important events in their life. The Sims 3 PC for released in 2009, and The Sims 3 game for consoles was available in 2010.
You can find and download The Sims 3 by the following links:
Just a few minutes ago during the Gamescom expo EA presented The Sims 4 game announced earlier this year. First The Sims 4 trailer was revealed, and new details about the next instalment of the famous life simulator series were shown to millions of fans.
by Tanya Knysh
2013-08-20
5314 views
The week of July 22 brought a lot of different game news. We would like to show you our list of the most important events that happened during this week in the world of gaming.
by Tanya Knysh
2013-07-26
6807 views
This autumn The Sims 3 fans will get new expansion and stuff packs. The Sims 3: Into the Future will let you use time portal and travel to the fantastic world that exists dozens of years in the future, and The Sims 3: Movie Stuff will bring Hollywood just to your sim's house.
by Tanya Knysh
2013-07-24
4780 views