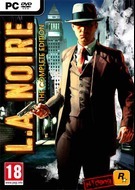 L.A. Noire
You can buy this product on:

$19.99
L.A. Noire combines 2 genres - action-adventure and third-person shooter that makes this game really interesting and exciting. If you are interested in solving problems, then you will like L.A. Noire game, because the protagonist is a police officer who solves a range of cases in police departments and investigate crime scenes. You can download L.A.Noire for free If you want to play it.
Release date
The Information is specified.