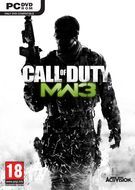 Call of Duty: Modern Warfare 3
Release date
The Information is specified.
Call of Duty: Modern Warfare 3 game is an exciting first-person shooter about war between America and Russia. If you are fond of Call of Duty series, you obviously need to download Call of Duty: Modern Warfare 3 for free or even pay for it. The game was released in 2011 and the story in it starts just after the events of the previous part.
You can find and download Call of Duty: Modern Warfare 3 by the following links:
The developers of Call of Duty game series don't stop delighting us with fresh and exciting news about the last released instalment  - Call of Duty: Ghosts. This time we are talking about the upcoming CoD: Ghosts DLC, which will supposedly bring into the game a skin of a well-known and adorable by many gamers character from Call of Duty universe - John "Soap" MacTavish.
by Catherine Gritsai
2014-04-15
1992 views
If you like Call of Duty series and you follow the news about its recently released instalment, then you probably know about its upcoming add-on, entitled Devastation, which will be released soon. But today we would like to tell you about a new episode in the Extinction mode, which is also a part of the next DLC.
by Catherine Gritsai
2014-04-02
1981 views
The developers of the popular game series have presented the new Call of Duty: Ghosts DLC trailer. The add-on, titled Devastation, will be available this Thursday - April 3rd - for the Xbox 360 and Xbox One owners as an exclusive.
by Olga Smiyanenko
2014-03-31
1595 views