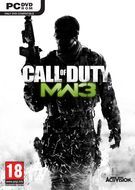 Call of Duty: Modern Warfare 3
Release date
The Information is specified.
Call of Duty: Modern Warfare 3 game is an exciting first-person shooter about war between America and Russia. If you are fond of Call of Duty series, you obviously need to download Call of Duty: Modern Warfare 3 for free or even pay for it. The game was released in 2011 and the story in it starts just after the events of the previous part.
You can find and download Call of Duty: Modern Warfare 3 by the following links:
As you remember, at the beginning of this week, the minimum parameters, which your computer has to meet in order the upcoming new part of the CoD shooter series launch and function normally, were published on Steam. Today, we'd like to share with you the Call of Duty: Advanced Warfare recommended system requirements.
by Olga Smiyanenko
2014-10-23
1512 views
As you remember, yesterday, we shared with you a launch trailer of the new part in the Call of Duty shooter series. The video was presented two weeks earlier the project's release date, which is scheduled for November 4th.
by Olga Smiyanenko
2014-10-20
974 views
Time runs very fast, and already the second work week of October is going to its end. And it traditionally means that GameSpace team has already prepared for you the selection of the most interesting information, which has been revealed during past 5 days.
by Catherine Gritsai
2014-10-10
2979 views