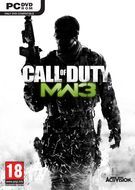 Call of Duty: Modern Warfare 3
Release date
The Information is specified.
Call of Duty: Modern Warfare 3 game is an exciting first-person shooter about war between America and Russia. If you are fond of Call of Duty series, you obviously need to download Call of Duty: Modern Warfare 3 for free or even pay for it. The game was released in 2011 and the story in it starts just after the events of the previous part.
You can find and download Call of Duty: Modern Warfare 3 by the following links:
Today is Friday, and it means that the next G2A sale is already waiting for you. This time our partner has prepared even more exciting games with huge reductions, so be sure you will find at least one interesting for you.
by Catherine Gritsai
2014-08-22
1376 views
We haven't told you any fresh information about the next instalment in Call of Duty series for a long time, but today we are ready to share lots of exciting and interesting CoD: Advanced Warfare news. It seems that recently it has become very popular to announce some new information about the upcoming projects through the Twitter accounts of the developers or game designers.
by Catherine Gritsai
2014-08-21
2067 views
Although the release of this shooter will take place in more than 3 months, its developers don't stop rejoicing us with the new and interesting information about the project. Yesterday, they presented the game's collectors editions, described their content and published very interesting Call of Duty: Advanced Warfare story trailer.
by Catherine Gritsai
2014-07-30
1919 views