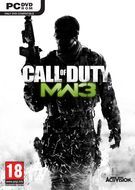 Call of Duty: Modern Warfare 3
Release date
The Information is specified.
Call of Duty: Modern Warfare 3 game is an exciting first-person shooter about war between America and Russia. If you are fond of Call of Duty series, you obviously need to download Call of Duty: Modern Warfare 3 for free or even pay for it. The game was released in 2011 and the story in it starts just after the events of the previous part.
You can find and download Call of Duty: Modern Warfare 3 by the following links:
Call of Duty: Advanced Warfare game was launched only a week ago, but its developers don't sit idly by and have already been working actively on the multiple improvements and the fixes of the bugs, which have been noticed by the players.  Thus, a couple of days ago in Blog section of the studio's official site, the employees of Sledgehammer Games published an article, in which they not only said thanks to all gamers for the long wait but also told about the game's first update, which is already under development.
by Catherine Gritsai
2014-11-11
962 views
According to the unconfirmed information, which has appeared online recently, the Zombies mode, which is very popular in the CoD shooter series, will be present in the upcoming part of the franchise. Thus, one of the reddit users has shared the Call of Duty: Advanced Warfare trailer, which demonstrated a short gameplay episode in this mode.
by Olga Smiyanenko
2014-10-31
3174 views
Yesterday, Activision studio announced the Call of Duty: Advanced Warfare Season Pass and presented a new trailer, dedicated to it. The launch of the forthcoming shooter is just around the corner, so we offer you to learn about the bonus content that you will be able to get.
by Olga Smiyanenko
2014-10-29
918 views