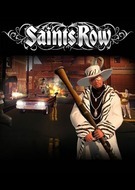 Saints Row
Release date
The Information is specified.
Saints Row game is an action-adventure with open-world. Here you are playing the role of street criminal, the leader of gang. In Saints Row game you can need to stop the war between different street rival gangs and also pass a lot of other tasks. Saints Row was released in 2006 exclusively for Xbox360.
You can find and download Saints Row by the following links:
If you are a fan of Saints Row series, then you know that the next game's add-on, entitled How the Saints Save Christmas, has already been released. But you may not know that the project's developers have published the launch trailer of the pack.
by Catherine Gritsai
2013-12-12
654 views
Couples of days ago we told you that next game's DLC - "How the Saints Save Christmas"- was released, and already today we would like to share the information about 2 new Saints Row 4 add-ons. Thus, Deep Silver Volition has released 2 game's packs, which are called Element of Destruction Pack and Zinyak Attack Pack.
by Catherine Gritsai
2013-11-28
920 views
Although we have already got used to the fact that Saints Row 4 developers indulge us with new and new add-ons, but it's still nice to get another such one, especially if it is confined to such holiday as Christmas. Thus, Deep Silver and Volition have announced new Saints Row 4 DLC "How the Saints Save Christmas", which is scheduled to be released on the 11th of December, shortly before the Catholic Christmas.
by Catherine Gritsai
2013-11-26
800 views